Access Volcanic is proud to have been named a finalist for The DE&I Solution of the Year at this year's ​TIARA Talent Tech Star Awards.
​
Recruitment websites are the digital gateway for jobseekers to access recruitment services worldwide. Not only do they provide a key route for candidates to search and apply for jobs, they also play a critical role in delivering the message of brand values and provide an opportunity for data collection to inform decision making.
Combining these features with Access Volcanic's accessible design expertise, key integrations with DE&I tools and platform enhancements that enable and encourage inclusive recruitment marketing practices, we are on a mission to support the industry in delivering equitable online experiences for all candidates. So what does this look like exactly? Keep reading as we share exactly what we've been working on.
​
How is Volcanic creating inclusive online experiences for candidates?
​We are changing the way recruitment agencies and marketers utilise their website as a tool to attract and engage diverse talent. As a leading supplier of candidate attraction technology to the recruitment industry, we believe it's our responsibility to lead the way in DE&I. Alongside others we're still on the journey of learning and improving, helping to educate our customers and the industry about the impact we can make together.
Our design team has always championed accessible web design, with our Senior Designer recently becoming a published author in the subject. We have embedded specific design rules into our process that enable us to deliver accessible online candidate experiences, considering how users interact with information differently, particularly those with neurodivergent conditions. You can find out more about this in our accessible design webinar.
​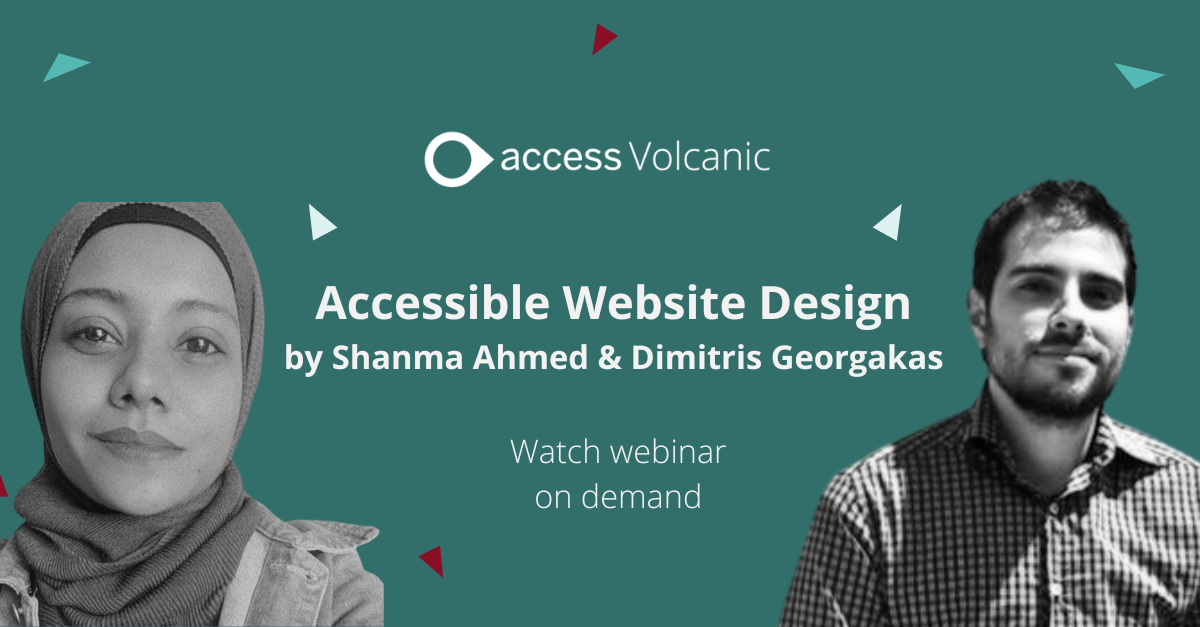 Watch accessible design webinar on demand
​
Our newly launched accessibility service enables current customers and prospects to run a report on how well their site performs from an accessibility perspective, checking aspects such as colour contrast, focus states, use of imagery, fonts and animation, and more. We also ensure our customers can easily apply accessibility toolbars onto their website to give their visitors choice over how they navigate and engage with content.
"Volcanic referred us to different subject matter experts for external projects. We've since added Recite Me's fantastic accessibility toolbar on the top of our website, which enables our customers to personalise their digital journey with Levyl, whether that means translating text to a different language or changing the background colours or font colours and more." - Sarah Bolitho, Founder of Levyl
​
Working closely with specialist DE&I partners, we deliver regular insightful content that provides guidance to our customers around removing barriers on their website, whether physical or psychological. A key objective of this content is for it to act as educational guidance that may be otherwise missing from within their business. For agencies without experienced marketers or DE&I teams, it highlights barriers in the traditional candidate experience that they may not be aware of and encourages them to change the way they think about their website journey.
Why not take a look at our eBook 'Creating an inclusive candidate experience on your recruitment website' where we provide actionable tips including
Taking the first steps to do better for all candidates

Inclusive imagery and language

Inclusive job adverts and descriptions

Accessible website design

Accessible website content
​
Download inclusive candidate experience eBook
​
"Diversity, inclusion and belonging (DIB) is embedded in the values of Trinnovo Group. This is something we prioritise not just in terms of our own internal staff, but the candidates we recruit for our client base. Seeing Volcanic prioritise DIB and offer guidance to customers on how to be more inclusive and accessible just confirms that we've chosen the right supplier. We want to partner with organisations that place the same importance on bridging diversity gaps as we do, and that presents opportunities for us to work collectively to make a difference." - Chief Marketing Officer, Trinnovo Group
Our committed product roadmap includes features such as:
Adding pronouns and name pronunciation fields to application forms

Anonymised CV reviews

Enabling candidates to inform agencies of additional requirements such as wheelchair access

In-built hints and tips to writing inclusive job adverts
We went into our vision and plans in more detail in our annual customer event, Access All Areas. In case you missed it, here's a short preview from the session:
​
​
​Watch digital inclusion webinar on demand
​​
DE&I isn't a trend that will come and go; this is about making the necessary changes to ensure that all candidates can access and engage with recruitment services with ease, and in a way that makes them feel welcome. It's about doing the right thing, now and for the future. We hope that as the market witnesses our evolution, we can inspire and influence the behaviours of recruitment agencies worldwide and help them achieve their own DE&I goals. We're really excited for what the future holds for Access Volcanic and the impact we can make on the online candidate experience.
​