​
How do recruitment agencies find candidates?
If you're wondering 'how do recruitment agencies find candidates,' we've pulled back the curtain to look at some strategies and their pros and cons. Finding, placing, and retaining candidates is a constant juggling act for any recruitment agency. Starting from the top, finding which candidate attraction methods are best for your business can be challenging. The answer to how to attract candidates can look different depending on your agency's resources and needs. In this article we've put together a guide to help you find the answer to the following questions:
What candidate attraction strategies do recruiters and agencies use?

What are the recruitment advertising strategies to attract the best candidates?

What are the best methods of attracting and recruiting candidates for my agency?
We've based this information on our experience of working with hundreds of agencies worldwide and put it together consolidated our findings to offer some paths forward. This deep dive might provide some innovative ideas to help you find more candidates efficiently.
​
What are the best methods of attracting candidates?
Modern recruitment agencies lean heavily on web-based candidate attraction strategies. LinkedIn is a popular choice, but there's also direct website applications, job boards, and other online sourcing methods to work with.
In-person events and networking now must compete with online, mobile-friendly methods. But recruiters and agencies still have a lot to gain from building one-on-one relationships here.
Let's take a closer look at how some of these candidate attraction methods work.
​
LinkedIn
LinkedIn has a strong claim to be the number one choice for recruiters and hiring managers everywhere. As a social network dedicated to professional networking, content sharing and posts with open roles, there are plenty of opportunities to find talent here.
On LinkedIn, recruiters are likely to invest in Premium accounts with features that help their search. They'll use targeted keyword searches and review candidate's profiles for job title, description, or location to help find the right match, as well as building more connections using the InMail functionality
​
Direct website applications
Recruitment agencies have one of the best candidate attraction strategies right under their roof: their recruitment website. Many recruitment agency websites will have job search functionality that candidates can use to filter and view roles, then apply by uploading their CV via a drag-and-drop function, LinkedIn profile connection, or through a candidate portal.
For direct website applications to work as a candidate attraction strategy, jobseekers need to first find the website. That's how a strong recruitment SEO strategy leads to better candidate attraction. With best practice in place - targeting keywords, refreshing the website, Google for Jobs optimisation, and other methods - a recruitment website will be visible to the right talent.
Get in touch for more information about high-performing recruitment websites
​
Job boards
Job boards work as search engines that list open roles and can be popular with companies that want to source candidates directly. But recruiters can leverage these third-party sites to get more candidate applications too.
To use job boards for candidate attraction, recruitment agencies pay a fee (monthly or per-post) to list job postings. The candidates that apply f then usually have their data transferred into the agency's recruitment CRM or ATS (Applicant Tracking System). Also, recruiters can look through CVs that have been uploaded to the job board with keyword searches if they pay an additional fee for this capability.
​
Developing relationships and using referrals
Recruitment is a relationship-focused business and making connections with both candidate and clients is key for any agency. With regards to candidate attraction, recruiters can develop strong working relationships with candidates over time, then ask that trusted person if they would recommend others in their network for open positions.
Some recruitment agencies will offer referral fees for recommending a candidate who goes on to be placed in a role. This can be a good method for building up networks of potential talent, and it can help that the new candidates are a known quantity thanks to the recommendation.
​
Networking and events
Face-to-face events are still a standout for their potential to help recruiters. At job fairs, graduate events and industry conferences, recruiters have the chance to meet and evaluate new candidates that are actively i searching for a new role. They can also make connections with attendees who might go on to become clients.
As they become more experienced and connected, recruiters will develop trust with long-term clients and candidates. Recruiters can use networking to place candidates in a few ways:
· Stay in touch with candidates and place them in new roles later
· Reach out to candidates in their network to offer them roles before they're advertised
· Ask for referrals for a role with unique requirements
​
Applicant tracking system (ATS) or Recruitment CRM
An Applicant Tracking System (ATS) or Recruitment CRM enables recruiters to track all aspects of their candidate and client interactions, including job listings, applications, interviews, and hires. This is the key software adopted by agencies to keep recruitment operations organised, as it helps recruiters sort through tonnes of data and increase the speed of hiring.
The strength of an ATS or recruitment CRM for candidate attraction is in its ability to help recruiters identify and source candidates from within their existing database. Over time agencies will amass registered candidates in their target sector that have applied for previous roles that they were unsuccessful or unsuitable for. In order to be able to fill roles quickly before their competition, agencies should go first to their candidate database that will already have been referenced and background checked, to create a shortlist within their ATS or CRM, as this will be quicker than using external candidate attraction methods.
​
Evaluating the most successful recruitment advertising strategies​
Methods for attracting candidates

Pros

Cons

LinkedIn

· Opportunity to find passive candidates

· Millions of profiles to search from

· Option to ask network for referrals

· Can build recruiter or agency brand to reach more potential talent

· Intense competition to reach candidates before other agencies do

· LinkedIn Recruiter subscription can be costly for small agencies

· Not as effective for entry-level, temp staffing and certain sectors

Direct website applications

· Can be integrated with ATS and CRM to build talent pools

· Saves costs on job board spend · Lowers admin time

· Builds the agency's brand reputation for specific sectors

· Potential to receive unsuitable applicants

· Agency must have strategy to promote website

Job boards

· Job listings will reach a much wider audience

· Can find the right candidates with regional or niche job boards

· Increasing job board spend over time and recent hike in fees

· Temptation to advertise jobs before using in-house resources and existing database

· Need to filter and respond to unsuccessful applicants

Developing relationships and

​

using referrals

· Long-term candidates can be placed in multiple roles

· Increased candidate quality

· High resource investment · Not efficient for placing high-volume roles

Networking and events

· Find more active candidates

· Face-to-face interaction can lead to stronger relationships

· Cost in staff time, fees, and travel expenses

Applicant Tracking System and

​

recruitment CRM

· Reduces time to hire

· Lowers admin time spent on third-party platforms

· Easier to search and screen candidate records · Zero cost as candidates already in database

· Keyword search may miss some candidates

· Database must be clean to be effective

· Time in reaching out to discover if candidates are still active in job search
​
​There is no one way to a deliver a successful recruitment advertising strategy. Each one comes with its own advantages and disadvantages and will come down to the goals and resources available to a particular agency.
There are different reasons to choose face-to-face candidate attraction versus online sourcing. Meeting candidates in person can create a stronger connection. If the recruiter meets a candidate at an industry event, it's a sign that this is likely to be an active candidate. But the downside of in-person networking can be the length of time it takes to cultivate those relationships before they pay off. And for industry events, there's time and travel costs to consider.
Online methods like using LinkedIn can find just as many interested candidates much faster. It can also lead recruiters to find passive talent who wouldn't go out of their way to a job fair, but might respond to a good job offer. But just about every other recruitment agency is thinking the same thing, so the competition is intense. It is also resource-hungry for the recruiter and agency to build their brand and credibility in order to cut through the noise. Not just that, unless they then add these connections to the ATS or CRM it will be difficult to take advantage of the relationships they have built here.
Also, it might not work for high-volume temp roles, where time to hire is critical, and not all candidates will have strong LinkedIn networks. For temp roles, taking the effort to retain workers and place them in multiple roles and asking for referrals might be a better way to go. Most successful agencies will use a combination of external sourcing, together with their own available resources and outreach.. For example, a recruitment website integrated with an ATS or recruitment CRM to keep track of candidates' CVs, building up talent pools for future roles. And syncing between these two systems means saving on admin time. However, with these methods it's the agency's responsibility to promote their website. If it does not rank highly enough, there won't be many applications coming in. Website applications can often be more valuable, placeable candidates though as they have sought out the specific role to apply for or kept in touch with the agency by registering for job alerts.
To reach more candidates, posting open roles to job boards can be the way to go. There are industry- and region-specific job boards to narrow the pool of candidates, although these can come with higher fees with no guarantee of receiving applications from placeable candidates. It can be expensive to post on job boards, and there will be high volume of applicants to sort through, which takes away from recruiters' time to focus on other things.
Also, recruiters have been known to spend on posting to job boards, only to find they've sourced candidates that were already in their database. That's why an ATS or CRM only works well when there's training and strategy around keeping the database clean and there's an incentive for consultants to look there first.
​
Practical tips on finding candidates for your roles - how to attract candidates for your recruitment agency
We've covered some candidate attraction strategies, but that's not all there is to finding the right talent. Our view at Access Volcanic is that the best way to source talent is to optimise your in-house resources before augmenting this with external candidate attraction methods.
As we are experts in delivering high-performing recruitment websites, we've thought a lot about ways to lead applicants from your website to your ATS or CRM, and about having the right methods to get your website noticed by talent. With some of these ideas in mind, we hope to empower recruitment businesses to make candidate attraction central to everything they do.
How to attract candidates:
1. Prioritise your website and focus on SEO from the outset
One of the most powerful candidate attraction methods for recruitment agencies is optimising your website to bring in talent. Leveraging your recruitment website won't just build your agency brand, but also lead it to become a powerful magnet for new candidates.
Here's some ways you can optimise your website for candidate attraction:
· Have an active website SEO strategy that includes regular content updates and keyword reviews

· Optimise your job descriptions for Google for Jobs to increase reach

· Make navigating and filtering your job listings easy to improve candidate experience and increase the likelihood they'll apply
We've built our Access Volcanic recruitment website platform with features like these in mind. If you're interested in maximising candidate attraction through your recruitment website, you can learn more here.
​

​
2. Integrate all your recruitment systems
Keeping visibility across all the platforms you use will make it easier to find out what candidate attraction methods are working for you. That's why we strongly recommend integrating your website with your recruitment ATS or CRM.
With this integration in place, you'll have a full view of the candidate attraction journey. Here's how that benefits your candidate attraction strategy:

See where candidates are coming from to land on your site

Invest in sources with the highest potential to increase your site's reach

Understand which sources are most likely to lead to a placement It's likely you will also want to integrate with other technology such as multi-job posters, so you can read about more integrations here.
​
3. Engage talent with candidate portals
To improve candidate attraction, it can help to cast a wide net. Putting up a candidate portal on your recruitment website can be one method to capture more potential candidates.
A candidate portal fosters a long-term relationship by re-engaging these candidates. They can sign up for job alerts and continue to engage with your agency, and eventually might be placed in the future.
​
4. Make job applications easy and accessible
One thing that might stop passive candidates from converting is the effort of applying for roles. If there's extra difficulty in finding or applying for jobs some candidates will drop off. We suggest ensuring that any jobs listed on your website are easy to filter. Candidates will know what they're looking for, and if you make it easy to find it's more likely to lead to a match.
Another suggestion, if you're using an Access Volcanic website, is to consider the Apply with LinkedIn feature. When candidates have this option to skip the hassle of creating and uploading a CV, applying with just a few clicks, the lowered barrier to apply will increase the chances that you'll find more talent.​
It's also critical that you think beyond user experience for majority candidates and ensure your jobs and application processes are accessible and equitable for candidates who consume and interact with information in different ways. There are a number of barriers that recruitment websites can present - both physical and emotional - that will prevent quality candidates from engaging with your website and applying for roles. When choosing a recruitment website supplier, we encourage you to ask how they're prioritising DE&I in their product roadmap to ensure agencies can deliver inclusive online candidate experiences.
​
​
5. Mine your database and networks
Sometimes the best candidate attraction strategy means going back to 'square one.' Looking through the resources that you already have can bring up the right talent to the forefront - when they might have fallen through the cracks otherwise.
There's also the practical consideration of cost. Job board spend can creep up if agencies don't keep an eye on it. Posting an advertisement can cost anywhere from less than £1 to £4 for a pay-per-job model, through to £870 for a monthly five-jobs posts via a Premium subscription on some job boards. It's tempting to constantly go out looking for something new. Keeping a reliable database and using networking skills can be a way to cut down on sourcing costs.
Here's some different methods to 'mine' for candidates:
Recruitment agencies can focus on internal training for their ATS or CRM, encouraging consultants to source from existing records rather than over paying for job boards

Recruiters can build up their personal brands on LinkedIn, attracting passive candidates to follow them and reach out to this network when sourcing for a new role

Recruiters can also reach out to successfully placed candidates for referrals, increasing the likelihood of finding strong new candidates for roles
Next steps
After considering the many different candidate attraction methods from all angles, you might be looking for some key takeaways to help you answer the questions "how to attract candidates" and "methods for attracting candidates". Here's our summary of the best methods for candidate attraction, both pros and cons:
LinkedIn
+ Good for: Finding passive candidates and searching millions of profiles
- Downsides: Can be competitive and not suited for temp staffing
Direct website applications
+ Good for: Keeping data synced in one system and lowering job board spend
- Downsides: Need to optimise your website to increase reach
Job boards
+ Good for: Reaching many candidates
- Downsides: Cost and potential for unsuitable applicants
Developing relationships and using referrals
+ Good for: Building trusting relationships that are more likely to lead to placements
- Downsides: Time to placing a new candidate
Networking and events
+ Good for: Reaching active candidates and industry leaders
- Downsides: Cost and time spent to join events
Applicant Tracking System and CRM
+ Good for: Speeding up time to hire by accessing candidates that are already registered
- Downsides: Need to keep the database maintained with updated contact details and availability
To learn more about how a high-performing recruitment website can be an integral part of your candidate attraction strategy, check out how our platform can help.
You might be interested in:
How to integrate your recruitment website with your CRM and other back-office technologies

How to build a recruitment website: factors to consider
​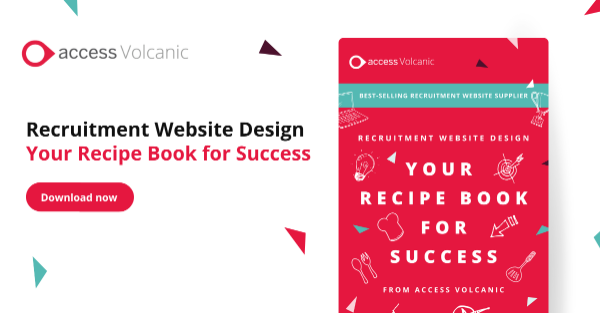 ​