​Getting access to your new recruitment website can be both exciting and a little overwhelming. You suddenly have access to all these new features that will enable you to deliver regular optimised content, but it will take you a little while to know your way around. This is where the Volcanic assistant is here to help!
Meet the new Volcanic assistant, available to all customers through the Volcanic admin dashboard.
​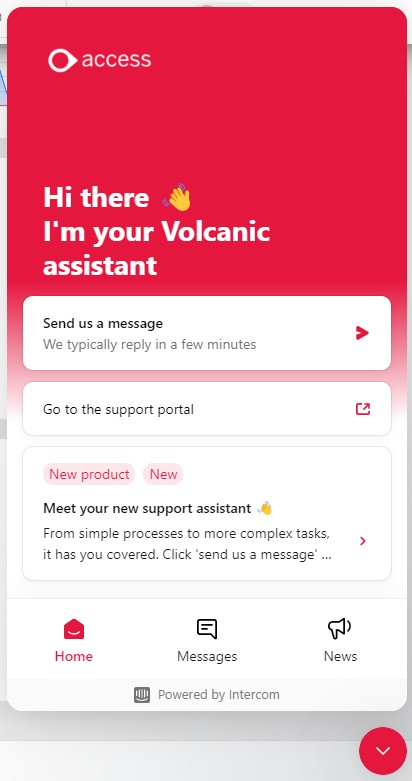 ​
We want to ensure that our customers have all the tools they need to get answers to their queries as quickly and as easily as possible. This new feature has been launched in response to feedback from our customers about how we can streamline the onboarding and support process. Since launching this tool earlier this month, already over 1000 customers have interacted with it and the feedback has been really positive, such as the quote below taken from a call with a recent customer!
"We love this! It is really handy to have a tool we can use to get our queries resolved. The team have already found answers to some questions they had and it was really quick."
Get instant responses to your support queries
Here's how the assistant can be used to get answers to their questions:
Customers can launch the assistant from wherever they are within the CMS. By clicking "Send us a message", they can ask the assistant a question.

The assistant has been trained to answer all of our most commonly asked support questions and can also point customers in the direction of articles within our knowledge base to provide further information. See an example of this interaction below:
​
Customers can also click on a link to access the support portal from the assistant, which gives them all the existing tools they have available to raise support tickets and browse resources and information available within the knowledge centre. ​

We will also be using this for new announcements, so customers will now receive alerts within their admin dashboard when there ​are new product updates or information they need to be aware of regarding their website. ​

​
Guided onboarding experience
Our assistant will also be on hand to help support new customers throughout their onboarding journey.
For customers in the process of rolling out your website, it will walk you through a checklist of steps to get your site ready

You will also receive email notifications to remind you of key steps that need to be completed to make your site work for you from day one.

Your onboarding consultant will still be on hand to help you if you have questions.
One of the great things about this feature is that there is so much more we can do with this! Watch this space for more updates on how our assistant will help us to enhance the Volcanic customer experience.